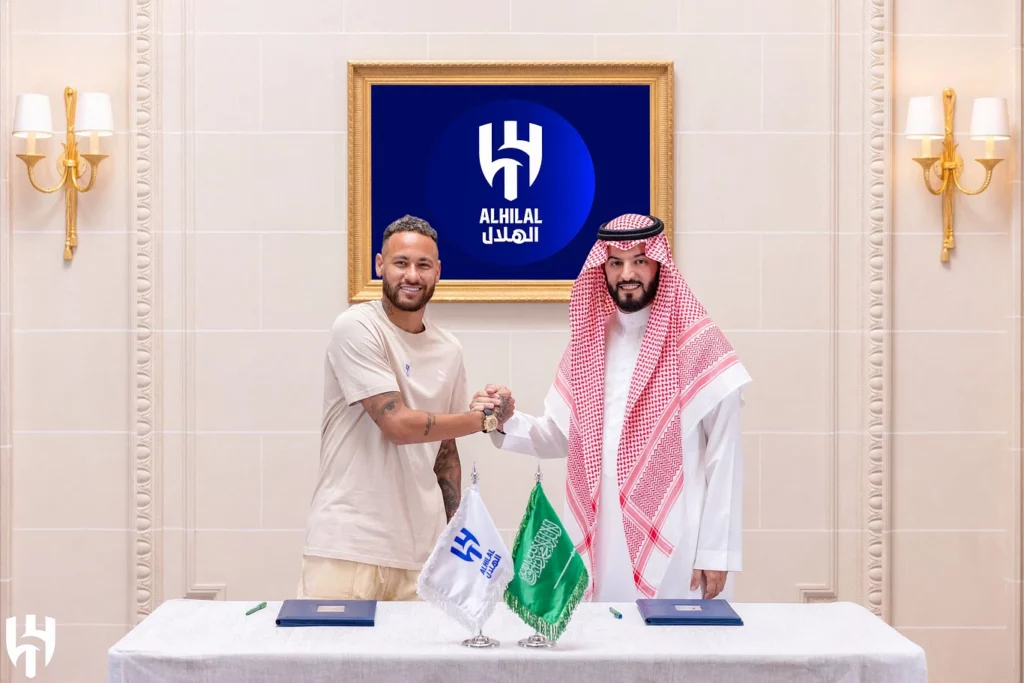 Al Hilal Neymar will receive a salary of 100 million euros per year. Less than what Cristiano Ronaldo gets at Al Nasr and Karim Benzema at Al Ittihad. But Neymar has received various benefits from Al Hilal.
These facilities include huge houses to live in, luxury cars, and private jets. While there are things like assistants for daily tasks, there are also demands for unconventional benefits to cover expenses while on vacation. All in all, Neymar's request to Al Hilal is quite long. The Sun has published a report about what is in that Ford.
Find out what Neymar wants –
25 room house
Not 5, 10, or 15, Neymar wants a house with 25 rooms. The motive is clear, the star always wants to have family and friends around. This 25-room house has also informed how the pool should be – the size will be 40 times 10 meters. Claims about the house do not end here. There should be three saunas at home. Five assistants will be hired to work 24 hours a day, one assistant will be hired from Brazil for a personal cook and two cleaning operators will be hired to keep the house clean. Apart from this, a fridge has also been requested, where Neymar's favorite drink, acai juice, and the South American food guarana will always be available for guests.
A car worth billions of rupees
Neymar is used to using luxury cars for a long time. He has a few exclusive model cars in his collection. Do not take them to Saudi Arabia. Al Hilal said that he will arrange his car. Al Hilal is keeping all three quality sports cars ready for Neymar. A Bentley Continental GP, an Aston Martin DBX, and another a Lamborghini Huracan. Apart from this, Neymar has also demanded four Mercedes G Wagons, one German brand SUV, and a van. Arrangements have been made to keep these cars with the house. In total, there are eight cars for Neymar. A chauffeur will also be available for Neymar and his entourage 24 hours a day, 365 days a year. According to The Sun, sports cars cost over five million euros.
The club will also pay the travel expenses
With the salary he will get, Neymar should not lack money to travel here and there on vacation. But he does not have to pay this cost either. Al Hilal has agreed to pay Neymar's travel expenses. The places where Neymar will travel, the hotels and restaurants where he will stay and eat and receive various services – all expenses will go to Al Hilal. Club authorities will pay for it. Apart from this, Al Hilal will also arrange the transportation of Neymar and his family. There will always be a private jet that Neymar and the family can use from time to time.
And if Neymar travels and travels within Saudi Arabia and highlights the country's tourism through Instagram posts, then Al Hilal will pay an additional five million euros per post. Neymar has 21 crore 2 million followers on social media. Neymar has already posted three posts about joining Al Hilal, which has received more than two million 'likes'.
What Neymar can and cannot do in Saudi Arabia
Neymar has joined Saudi Arabian club Al Hilal on a two-year deal. ESPN reported that Neymar will receive a salary of around 100 million euros per year at Al Hilal. However, the salary figure has not yet been officially disclosed by any party.
The Brazilian star signed for Al Hilal and said that he wrote his name in Saudi Arabia's football while writing a new history in the sports field. That's a good thing. However, Neymar may have a little trouble, in the beginning, adapting to the Saudi Arabian lifestyle. Brazilian culture is very open and Neymar himself believes in such a way of life. Brazilian media Globo reported what Neymar can and cannot do when he goes to Saudi Arabia.
Let's talk about the night party first. Neymar's party love is not unknown to anyone. Neymar has also been condemned for organizing a party that would be in Barcelona or PSG. It will be difficult for him to host such a party in Saudi Arabia. Because alcohol is completely banned in the country.
According to Saudi Arabian law, the production, distribution, and consumption of alcohol are prohibited there. Drinking is also prohibited for non-Muslims and possession and consumption of alcoholic beverages is a crime in Saudi Arabia, Globo reported. And this rule also applies to tourists visiting the country.
Saudi Arabia is a country bordering the Red Sea and the Persian Gulf.
There are beautiful beaches. And only Neymar's fans know that the beach is very dear to him. When he got time off, he returned to Brazil and spent time on the beach with his girlfriend, Bruna Biancardi. A few days ago, the couple also shared pictures of pregnant Bruna's baby bump on the beach. Globo reminded Neymar that in order to do something like that in Saudi Arabia, Neymar would first have to have a private spot on the beach. That is, Neymar will need a private beach. Doing so is prohibited on beaches open to the public in Saudi Arabia. However, in exchange for money, you can take a private place on the beach and use it as you like. There is no discrimination between men and women, women can wear bikinis if they want, and security guards don't ask if men and women are married.
Although Saudi Arabia has given women some freedom in recent years, their lives have not been easy there. Women in Saudi Arabia can now drive and are allowed to attend football matches in stadiums. In Saudi Arabia, women are required to wear the black cloth 'abaya', which covers the entire body. In addition to this, you have to wear a hijab.